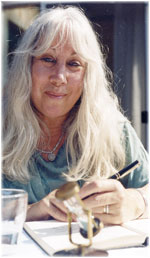 Contact
Please contact Dale through her studio, The Writing Tables.
THE WRITING TABLES
Box Q76
Bowen Island, BC V0N 1G0
Canada
EMAIL
storying@telus.net
You can also contact Dale using the form on the Guest Book page.
PHONE
604 947 2965
CREDITS
The photographed objects have been gifts of writers. They represent portions of their stories.
The Hour Stories design by HerraincoSkippHerrainco, Vancouver, BC Canada
Photographs by Helen Elizabeth Schnare and John Dowler
Web site by Cosmic Idea

© Dale Adams Segal 2004
"Unless otherwise expressly stated, all original material of whatever nature created by Dale Adams Segal and included in this web site and related pages is licensed under a Creative Commons License."
"Our truest writing comes from connecting to our desire to write. Being patient and still, taking the time to listen is the beginning. Once we have connected to a moment within us that lives, writing without censure brings forth a written piece that will continue to open doors of insight and inspiration."