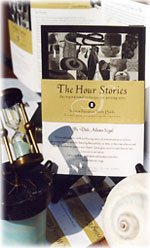 "Dale Adams Segal's The Hour Stories cards have been a revelation for me as a writer and a valuable source of inspiration for my creative writing students. As an enthusiastic consumer of books on writing, this resource stands out among the rest."
Donaleen Saul,
teacher and writer
Vancouver Film School, Vancouver B.C.

The Store
Dale Adams Segal's The Hour Stories' unique and simple inspirational technique opens the portal of writing for us, supporting one writer or a circle of writers. It nurtures those of us who want to tell or preserve our stories, those of us who hold much to say and are not certain where to begin, or those of us who hear a story calling and long to set their sails on the river of story in order to receive it.
For some time her studio, The Writing Tables has been full. Here is an opportunity to take The Writing Tables practice into your own home or office. The story cards are an invitation for you, offering a way to engage with your creative spirit and your most profound story telling. The Hour Story Cards are an inspirational portable writing kit. They represent the work of writing in her studio through Storying Sessions I and II (a four month writing course).
Contents of Package:
The Guide to the Technique
Meditation Card
Visualization Card
Sixteen Story Cards
To Order the Cards
To order THE HOUR STORY CARDS, you may pay by money order, personal check or by PAYPAL.
Upon receiving payment, we will send the cards by Express Post. If you are sending a money order you may expect shipment within 10 working days of our receiving payment. If sending a personal check, you may expect payment within 10 working days following clearance.
Please complete this form and send your payment.
THE HOUR STORY CARDS SET
$36 in Canadian funds
$30 in US funds
Shipping to Canada:
Express Post to British Columbia, Alberta, Saskatchewan or Manitoba: $8.00 CDN for one set. For each additional set please add $2.00.
To other provinces: $12.00 for one set. For each additional set please add $3.00.
Shipping to the United States: Express Post $10.00 USD. For each additional set please add $2.00.
Thank you
"The Hour Story cards are magic! I have used Dale's approach weekly for seven years and I am still amazed each time at the freshness that the cards inspire me to evoke."
Dr. Kathleen Forsythe. New Westminster, B.C